Baby Chemist Bonanza Implementation Update
My ImagineIT project had its first trial run under the working title "Baby Chemist Bonanza." Here's the link!
Baby Chemist Bonanza
I offered my current students the link as a possible resource to use the night before their chaper exam on naming chemical compounds. Initial feedback was positive and very helpful in spotting bugs. Still waiting to work with my computer science colleague to finish up the redesign intended to make it an actual game. Right now it still feels like flashcards.

Imagine the Road from Here...
Reflecting on reading "What Should I Do," by Anna Ershler Richert, I was struck by the feeling that despite coming from all over the city and from a wide array of cultural and socioeconomic backgrounds, one theme emerged that was common to us all: stress. We are all capable, motivated, high achieving learners who just feel absolutely swamped most of the time. In an effort to ease their stress and make learning more fun, my ImagineIT project sought to create a way to practice tedious vocabulary acquisition at their convenience and in a slightly fun and amusing way.

The student focus group supported my belief that this was a worthwhile endeavor. Here's one response that represents a typical point of view:

"What made learning the ions difficult, was the large quantity, which made it difficult to memorize. It was also difficult to make a connection between the symbol and the name. The polyatomic ions were especially difficult to memorize, due to their long symbols. My advice for new students learning to memorize the ions, would be to make flash cards. Also, create a song out of the ions or a mnemonic device. My advice for teachers is to review ions 5 minutes at the beginning of class. Another suggestion is to create practice tests for the students or make fun games out of it. I agree that learning chemistry is like learning a foreign language because a symbol correlates with a word. For example, Mandarin language consists of symbols that correlate with definitions."

Consultations with teacher colleagues also led me to believe I was on the right track, but highlighted the multitude of options I'd have in designing a game layout.

​When initially brainstorming the game design for this project, I'd considered only how my novice coding skills would limit the final product. However, having found an ace in the hole computer science colleague who was excited to support my creation, the problem I encountered was deciding what I wanted the game to be, instead of just settling for what it could be due to the boundaries of my own slow growing skill set. This is a wonderful problem to have, but still presents challenges. In giving up total control of this project, it felt a little like changes I'd made in my classroom over the past few years that gave more control to students as lessons shifted away from being entirely teacher centered and incorporated more student projects and student driven learning.

These meetings with my pro-bono coding consultant have taken on a life of their own. They may even transition over to a student to student cross curricular model where students of mine are paired with students of his to create entirely new chemistry online review games. That is the ultimate challenge, but for now we are left with the work of refining our first game, currently in the beta phase. Basic functionality is present, but translation from the algorithms of computer science to the natural science of chemistry have meant a few typos that need debugging. More importantly, we've settled on a falling tile, Tetris inspired motion pattern where students will need to click on the correct match to a given ion name/formula at the top of the screen and as choices slowly float down the screen. Look for this iteration of the game to appear sometime in the spring semester. Below is a mock-up of a possible user interface:
Powered by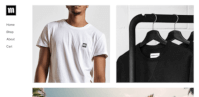 Create your own unique website with customizable templates.